TAST
Native Food. Original food, simple food, symbolic foods that have a meaning and a taste for everyone: the one that blends with the memory and the search for authenticity. Every morning,  during the breakfast you'll have the possibilty to try this thypical producuts, 100% made in Livigno.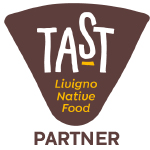 Via Ostaria, 11 - Contrada Ostaria - Livigno
Visit the website (external link)
Non-binding request
Call us DISCOVER THE NUMBER +39 0342 996091
Call
Hotel Casaclima a guaranteed comfort in the beautiful rooms and suites with parquet chestnut wood
furnishings, memory mattresses, all with balconies, Sky TV, minibar, wifi and each with its own heated 
locker skis.
High quality restaurant with a search for raw materials and high-level preparation.
Winery 500 labels of wine, of which 150 of the Valtellina, tastings also by the glass.
Location in the pedestrian area on the terrace: breakfasts, cocktails, ice cream, signature sandwiches, 
music.
Directly on the ski slopes skilifts, chair lifts, gondola, ski schools, Kinder Club on snow, ski hire, skibus, 
cross-country skiing, skipass ticket offices. Night skiing.
Bikehotel controlled access and locked storage, bike wash, washing of technical clothing, sports breakfast.
Breakfast from 07 to 10 a varied big assorted buffet from sweet to savory, from fish to prosecco, from 
cheese to salami, from salads to fruit, from cereal to eggs cooked on show cooking. Many types of bread, 
cereals, eggs, meats, cheeses, yogurt, jams, juices, pastries, salads, dried and seasonal fruit, hot drinks.
Half board from 19 to 21 4-course dinner of your choice, depending on season and understanding of the 
Valtellina dishes with carefully selected products and buffet of fruits in season.
Wellness bathrobe, wellness towel and slippers are included for the use of pools to 31 ° indoor pool and 
whirlpool with sea salt to 35° from 09 to 20 and the use of saunas with Finnish sauna 95 °, sauna Bio alpine 
herb, Turkish bath, experience showers, ice fountain, relaxation area with herbal teas and mineral waters 
from 15 to 19.
Spa with massage, solarium full bed, beauty treatments.
Indoor garage height mt. 2.50 with automatic closure and controlled access.
HOTEL SERVICES
Service available
Service available only in some rooms
Paid service
Paid service only in some rooms
Amenities
Beauty Farm
Heated ski storage
Garden
Jacuzzi
Massages
Swimming pool
Smoking lounge
Sauna
Boot warmers
Solarium
TV SAT
UVA
Spas
WiFi
Catering services
Bar
Breakfast buffet
Italian Breakfast
Gluten-free menu
Vegetarian menu
Restaurant open to the public
Room facilities
Hairdryer
Balcony
In-room safe
Sofa bed
Shower + bath
Mini-bar
Laundry with ironing facilities
WC
WC + Shower
WiFi
Parking
Garage
Covered parking for motorcycles
Car park
Parking for coaches
Spoken languages
English
Russian
Spanish
German
Sundry services
Disabled friendly (access)
Lift
Babysitter
Mountain bikes for rental
Shuttle service
NON-BINDING REQUEST
Fields marked with (*) are required.