TAST
Native Food. Original food, simple food, symbolic foods that have a meaning and a taste for everyone: the one that blends with the memory and the search for authenticity. Every morning,  during the breakfast you'll have the possibilty to try this thypical producuts, 100% made in Livigno.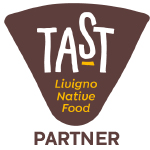 Via Gerus, 311 - Contrada Teola - Livigno
Visit the website (external link)
Non-binding request
Call us DISCOVER THE NUMBER +39 0342 996 880
Call
The Alpen Hotel Village, a 3-star hotel in Livigno, is on the border of a centuries-old wood and offers you a charming view of Livigno. It is an ideal place for those who want to take a break surrounded by nature, pampered by our staff and with the comforts that the hotel offers. The complex is made up by a central building where you will find the reception, a welcoming bar, a nice restaurant and a quiet lounge, and an area with a swimming pool, outdoor saunas and a wellness centre, and 7 connected chalets where the rooms are. This fall the Galli family www.alpinehotelslivigno.it has taken over the management of the Alpen Village Hotel. Our family has been working in the tourist business for 3 generations and our philosophy has always been that of offering quality holidays to our guests: cheerful, welcoming atmosphere, excellent services, comfort, wellness, activities in the surrounding area, delicious dishes and a good value for money.
HOTEL SERVICES
Service available
Service available only in some rooms
Paid service
Paid service only in some rooms
Amenities
Heated ski storage
Fitness Centre
Garden
Massages
Swimming pool
Smoking lounge
sala_TV
Sauna
TV
TV SAT
WiFi
Catering services
Bar
Breakfast buffet
Vegetarian menu
Room facilities
Hairdryer
Fireplace
Laundry with ironing facilities
Parking
Garage
Covered parking for motorcycles
Car park
Parking for coaches
Spoken languages
Croatian
French
English
Polish
Russian
Slovenian
German
Sundry services
Small pets allowed
Entertainment
Children's play area
Info Desk
Kids Club timetable
Mountain bikes for rental
Online booking
Games room
Shuttle service
Special children's programme
NON-BINDING REQUEST
Fields marked with (*) are required.
Just a moment please!
We're looking the Facilities for you…
booking by Easisoft.