TAST
Native Food. Original food, simple food, symbolic foods that have a meaning and a taste for everyone: the one that blends with the memory and the search for authenticity. Every morning,  during the breakfast you'll have the possibilty to try this thypical producuts, 100% made in Livigno.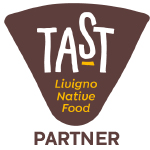 Via Teola, 65 - Contrada Teola - Livigno
Visit the website (external link)
Non-binding request
Call us DISCOVER THE NUMBER +39 0342 996153
Call
Cola family welcomes you at Hotel Margherita in Livigno.

The hotel, located on the eastern side of Livigno, has a sunny exposure from dawn to dusk and enjoys a spectacular view of the whole valley and its mountains.

There is a big outdoor terrace for relaxing in the sunshine and it also has an area where children can play safely, away from the road.
The ski area Mottolino is 100 meter far from the hotel.
HOTEL SERVICES
Service available
Service available only in some rooms
Paid service
Paid service only in some rooms
Amenities
WiFi
Internet Connection
Heated ski storage
Internet Point
DVD player
Massages
Non smoking area
Room with DVD player
TV room with SAT
sala_TV
Sauna
Boot warmers
Solarium
TV
Flat Screen TV
TV SAT
Catering services
Bar
Breakfast buffet
Italian Breakfast
Partnership with restaurants
Gluten-free menu
Vegetarian menu
Restaurant open to the public
Room facilities
Kitchenette
Hairdryer
Tumble dryer
Balcony
In-room safe
Shower + bath
Washing machine
Laundry with ironing facilities
WC
WC + Shower
Parking
Garage
Covered parking for motorcycles
Car park
Spoken languages
Sundry services
Large pets allowed
Small pets allowed
Entertainment
Children's play area
Lift
Babysitter
Pool table (billiards)
Info Desk
Kids Club timetable
Mountain bikes for rental
Games room
Shuttle service
Special children's programme
NON-BINDING REQUEST
Fields marked with (*) are required.
Just a moment please!
We're looking the Facilities for you…
booking by Easisoft.