TAST
Native Food. Original food, simple food, symbolic foods that have a meaning and a taste for everyone: the one that blends with the memory and the search for authenticity. Every morning,  during the breakfast you'll have the possibilty to try this thypical producuts, 100% made in Livigno.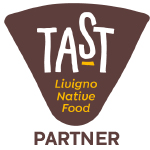 Via Saroch, 782/C - Contrada Saròch - Livigno
Visit the website (external link)
Non-binding request
Call us DISCOVER THE NUMBER +39 0342 990123
Call
#bebasic #beactive #befree these are the values of the new Montivas Lodge, the Bed&Breakfast meant for all pure mountains lovers, without any frills!
There is no space for the unnecessary. Only important things matter and we can do them really well. For a sportsman or a sportswoman the most important thing is a big breakfast! From 7 to 11 am a sweet or savoury breakfast is at everyone's disposal, in order to satisfy everyone's taste. Free-trade and best local produce will provide the required nutritional resources.
Montivas Lodge: the base camp of your adventures!
The happiness of our guests passes through nature, and for this reason we are doing our best in order to protect it. The heating, the offered produce, the building materials of the Montivas Lodge are all eco-green and low-impact.
At Montivas Lodge you will only have to worry about enjoying you adventures!
HOTEL SERVICES
Service available
Service available only in some rooms
Paid service
Paid service only in some rooms
Amenities
Heated ski storage
Non smoking area
sala_TV
WiFi
Catering services
Breakfast buffet
Italian Breakfast
Room facilities
Hairdryer
Balcony
In-room safe
Shower
Mini-bar
WC
WiFi
Parking
Car park
Spoken languages
French
English
Polish
German
Sundry services
Disabled friendly (access)
Small pets allowed
Lift
Shuttle service
NON-BINDING REQUEST
Fields marked with (*) are required.
Just a moment please!
We're looking the Facilities for you…
booking by Easisoft.