how to get there
BY TRAIN/PLANE/BUS/TAXI
Reach Livigno by car. Before setting off, remember to check the road conditions and the opening of the Alpine passes. During the winter it is compulsory to have chains on board or winter tyres.

Leave prepared: here you will find all the information you need to start your holiday in serenity!
From Italy
The nearest Italian train station is Tirano, which is connected to Milan Central Station. Info: trenord.it/en
The Perego bus service takes you to Livigno along the Tirano-Bormio-Livigno route. Info busperego.com/en
From Switzerland
The nearest Swiss station is Zernez, connected to the Rhaetian Railway. Info: rhb.ch

The Silvestri bus service takes you to Livigno on the Zernez-Livigno route. Info: silvestribus.it
Italy
The nearest airports are: Milano-Malpensa, Milano-Linate, Bergamo and Verona.
Switzerland
Austria
Germany
Monaco di Baviera airport e Friedrichshafen airport
HOW TO GET THERE
Links
Livigno is located in Italy, on the border with Switzerland, and can be reached via various connections: the map shows the main airports, road networks and steps to reach the resort.

During the winter season, the Livigno Express service is active: a daily shuttle service connecting Livigno to the main airports.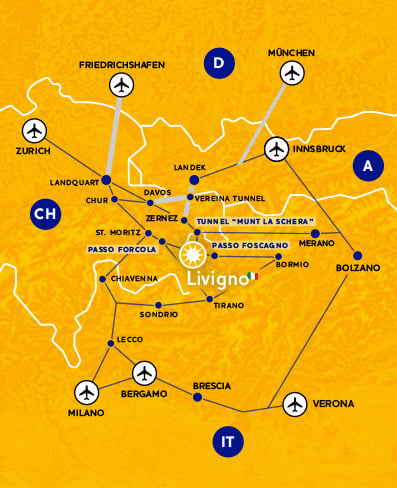 LIVIGNO EXPRESS
Reaching Little Tibet has never been so easy! Thanks to the service Livigno Express, in fact, you will have the possibility to use fast transfers, which from the airports of Milan and Bergamo will allow you to arrive in Livigno, and start your holiday without any worries.

Find out more, we are waiting for you!
Before setting off, it is always advisable to enquire about the opening times and accessibility of the Alpine passes and the Munt La Schera Tunnel. It is also necessary to remember to always carry a valid document for foreign travel.
Come arrivare
Calcola il percorso
Enter your starting point and get directions on how to get to Livigno by different means.
By car
Sorry, but no result found.
By train
Sorry, but no result found.
By bus
Sorry, but no result found.
Livigno for you
Everything you can do, see and taste in Livigno. From an active holiday to a day of relaxation with the family, here you will find what you are looking for.