ECO-TOURISM
A LOGICAL CHOICE
Fifty years ago, Livigno was merely nature, and our parents still remember it. Today it is an international tourist resort with a sun as its logo. We keep respect for the environment in our minds and love for nature in our hearts.
WINTER OLYMPICS 2026 – A GREAT AND SUSTAINABLE EVENT
In 2026 Livigno will be one of the sites hosting the Milan Cortina 2026 Olympics Games – the most beautiful sporting event in the world. And for the first time ever, it will also be the most sustainable. In the spirit of the IOC's Agenda 2020, the existing iconic sites will be enhanced and harmonized with the territory.
This is an opportunity to innovate the current facilities and qualify them from an energy and environmental point of view, as well as integrate them with the development plans of the area. To us, this is a great recognition and above all an incentive to always do better and better in moving towards sustainable tourism. Great attention will be paid to mobility which Livigno has been focusing on for a few years.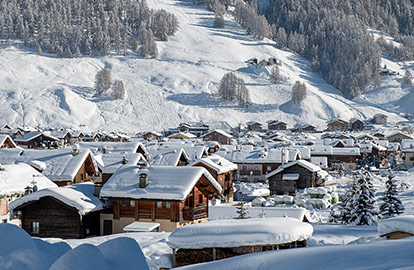 THROW THE KEYS AWAY AND CATCH THE BUS!
Those who have been vacationing here have already experienced it: you arrive by car ... and you forget you have one. A free public transportation system covers the entire Livigno and Trepalle area and connects the two sides: two lines in summer and four in winter.
This initiative was started to lessen the impact of car traffic in the valley also offering a service to those who move between trails and slopes with skis and bicycles. The increasingly frequent traffic-free days also go in this vein: on these days car use is banned
E-BIKES AND ELECTRIC CARS: THEY ALSO RECHARGE THEIR BATTERIES IN LIVIGNO
The use of electric cars and e-bikes has increased exponentially in recent years. We are glad about this, and to that end, we have equipped ourselves to accommodate them properly. All over the area, you can find free charging stations for your electric car.

Then if you have given in to the charm of e-bikes, in addition to the free public charging stations you will be able to charge your bike at all the Bike Hotels equipped with small workshops for washing and repairing your bike. In short: in Livigno, everyone and everything can get recharged

Gallery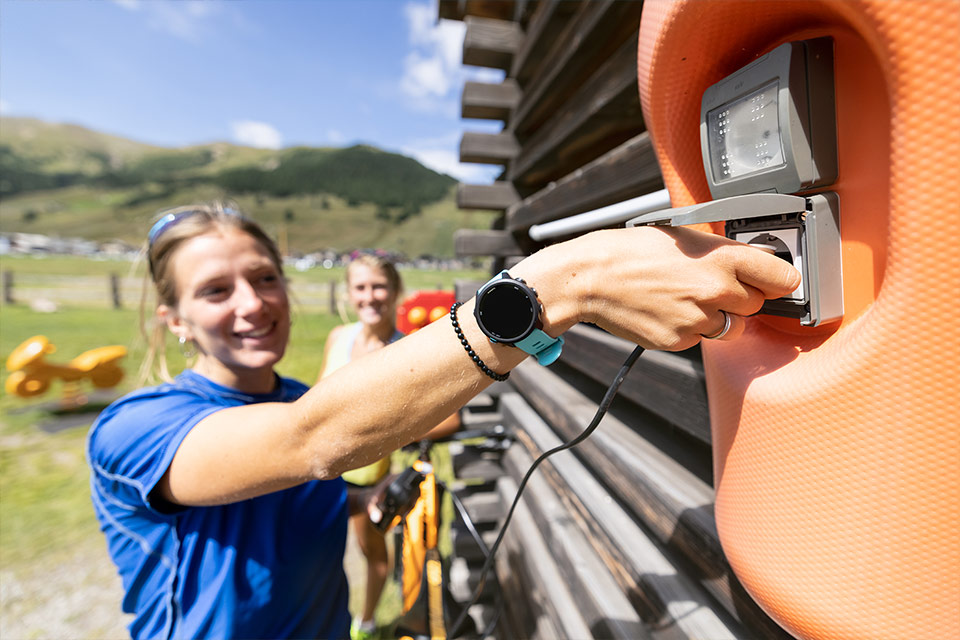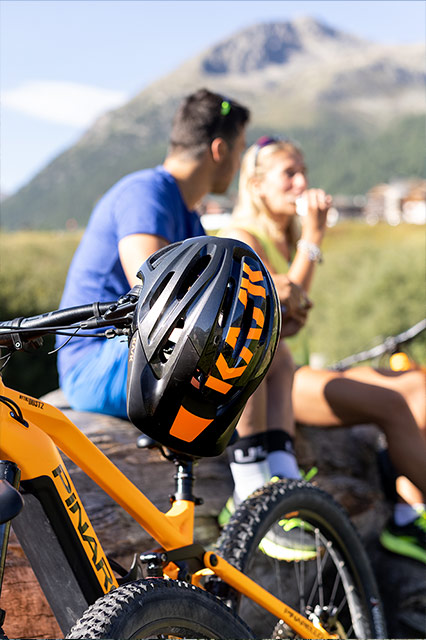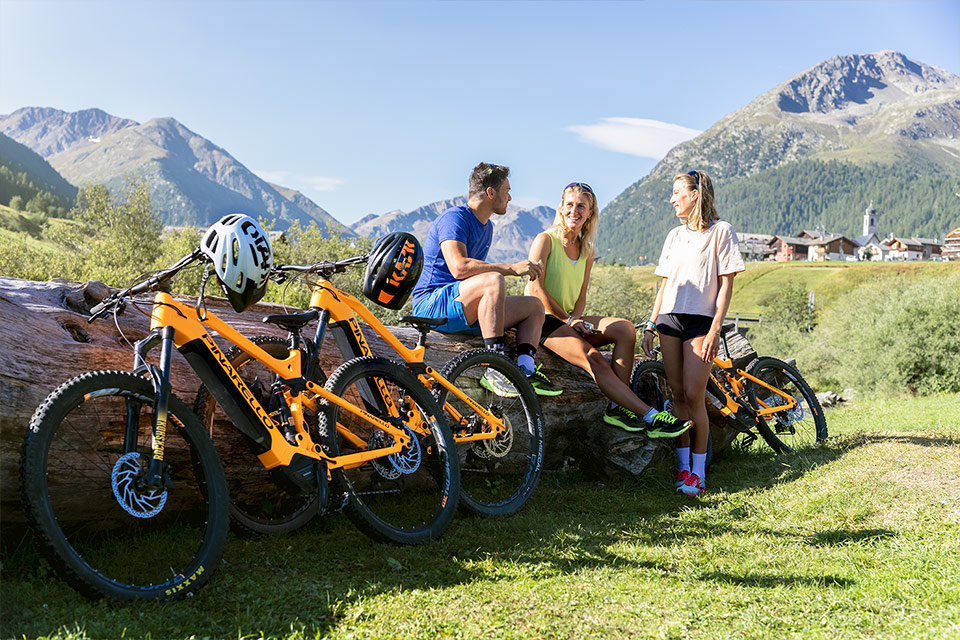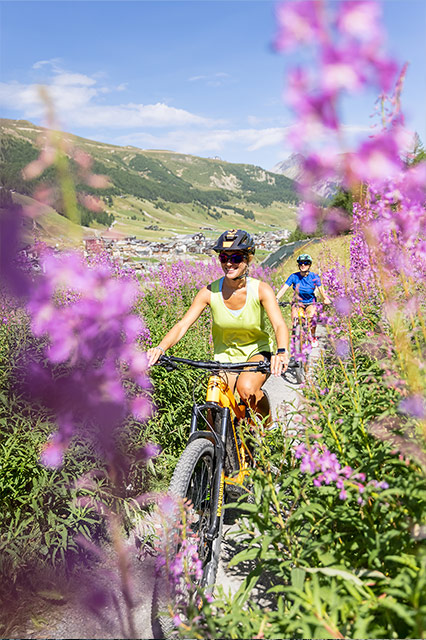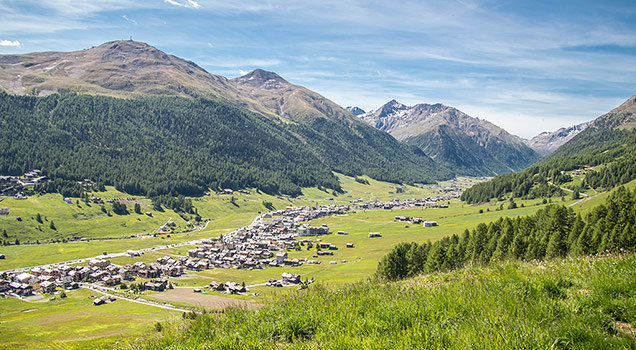 MOBILITY 4.0: FOR THOSE WHO WORK AND FOR THOSE WHO COME ON VACATION
The topic of mobility also has a broader perspective, which is why the Municipality of Livigno has entered a partnership with the Lombardy Region, Sondrio's Agenzia del Trasporto Pubblico as part of the European Interreg V Omni-BUS 4.0 project to promote the implementation of a modern, integrated, and sustainable public Alpine cross-border transportation system between Italy and Switzerland.
It has involved several operators such as railway lines, bus lines, shipping companies, and cableway installation providers with the shared goal of providing environmentally friendly mobility both to those who live and work in these areas and to the many tourists that move between the Sondrio Province and the Canton of Grisons.

MOLOK®: MORE THAN 60 CONTAINERS FOR YOUR WASTE COLLECTION
If you walk around Livigno and Trepalle, you cannot miss them: more than 60 containers have been installed throughout the municipality. But you may not be able to see them, because they are buried to enhance the separate waste collection lessening the visual impact.
It is a safe and clean solution to dispose of any type of waste sustainably and efficiently improving the separate collection. People staying in apartments find recycling bins with instructions for proper use. Also, through the large capacity of the bins, the use of traffic vehicles for waste collection is reduced, consequently leading to a decrease in environmental pollution.

Staying in Livigno
Scopri i nostri Hotel e gli Appartamenti, dentro ci trovi tutto per una vacanza indimenticabile.