FREERIDE ED HELISKI
DISCOVER THE BEAUTY OF THE WILDERNESS
Little Tibet, with its 100 km2 of backcountry, offers immense expanses of soft, fresh snow ready to be and ploughed by skis and snowboards. Among the resorts that have believed most in this speciality, Livigno has enhanced and activated ad hoc services with the Freeride Project, unique in Italy and active for several seasons now. At the basis of the project is the preparation and dissemination of the Avalanche Bulletin, a daily information service that provides all the information on the stability of the snowpack in each area of Livigno, which can be consulted through the website and the MY LIVIGNO app that allows all freeride enthusiasts to choose the most suitable area for their descent from day to day.
YOUR SAFETY
Per vivere la montagna in sicurezza, c'è un servizio di informazione specifica che Livigno mette a disposizione dei freerider per tenerli costantemente aggiornati sulle condizioni della neve.
AVALANCHE BULLETIN
The Avalanche Bulletin, a daily information service produced every morning by the Livigno Avalanche Service, provides all the information on the stability of the snowpack in each area of Livigno.
SNOW QUALITY REPORT
The Snow Quality Bulletin can also be consulted on a daily basis: here, the snow conditions, skiing quality and exposure of stones in the three different skiable areas (alpine, in the forest, below the forest) are illustrated.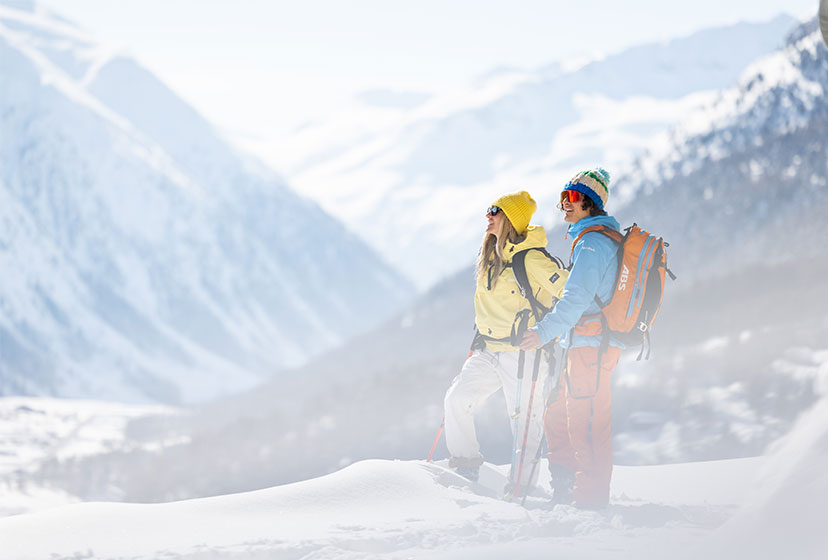 MANAGED PATHS
Livigno offers its guests 'managed trails', trails created by the freeride project team, in areas close to the ski lifts that allow beginners to try their hand at these disciplines, with the security of being on constantly monitored trails. There are 5 managed trails for ski mountaineering and 7 for snowshoeing, groomed with each new snowfall, and marked as if they were summer trails with a blue and orange blaze for ski mountaineering, green and pink for snowshoeing.
POWDER SLOPES
SKIING ON POWDER SLOPES
Experience the adrenaline rush of sliding on fresh snow without having to brave the wilderness.

After every heavy snowfall, a slope in the Carosello 3000 ski area will remain untouched overnight. You will have the opportunity to ski in freshly fallen snow, experiencing an exciting and adrenalin-pumping descent.

The Powder Slopes are slopes designed to allow most skiers to safely approach off-piste skiing.
THE RIGHT EQUIPMENT
To move in the backcountry without taking risks, you need to be prepared, respect the rules and know the mountain well. Safety first! Before setting off, always remember to check the local avalanche bulletin and remember to bring all the equipment you need for your safety.

In Livigno, you will find a wide range of sports shops that will provide you with the equipment you need to practice your activity in total safety, without having to give up comfort and style.
BEFORE GOING OFF-PISTE, CHECK THAT YOU HAVE SELF-RESCUE EQUIPMENT:
BACKPACK
ARTVA
PALA
PROBE
MAP
GPS OR ALTIMETER AND COMPASS
HELISKI
Freeriding is not the only sport that will give you 'limitless' experiences. Are you an adrenalin junkie? In Livigno, you can practice Heliskiing, an unforgettable experience! It all starts with taking off in a helicopter from one of the available pitches and continues by reaching the highest points of the Livigno Alps, where freeriders - previously instructed in safety information and accompanied by a UIAGM Alpine Guide - can then launch themselves into an exciting off-piste descent!
THE GOLDEN RULES OF FREERIDING
1
CONSULT THE AVALANCHE AND SNOW QUALITY BULLETINS BEFORE EACH OUTING
2
IT IS OBLIGATORY TO CARRY SELF-RESCUE EQUIPMENT: ARTVA, SHOVEL AND PROBE
3
ALWAYS SKI WITH CAUTION AND AWARENESS. YOU ARE SOLELY RESPONSIBLE!
4
WEAR A HELMET AND ALWAYS SKI WITH AT LEAST ONE COMPANION FOR GREATER SAFETY
5
IF YOU DO NOT FEEL SAFE, DO NOT HESITATE TO CONTACT THE MOUNTAIN GUIDES
6
IN THE EVENT OF AN ACCIDENT, RENDER AID AND CALL 112 IMMEDIATELY
STANDARD_PAGE
STAYING IN LIVIGNO
Discover our Hotels and Apartments, where you will find everything you need for an unforgettable holiday.