BERNINA EXPRESS
HERITAGE OF THE ALPS
It starts at just over 400 meters and reaches over 2,200 meters facing incredible gradients without a rack. Quietly seated in a scenic train, you will travel among the most beautiful peaks in the Alps. If you are in Livigno, you cannot miss this thrill.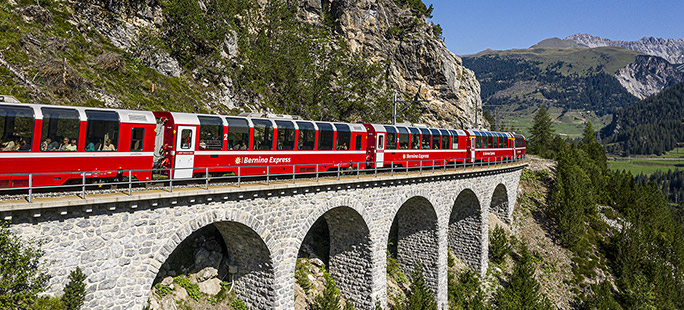 THE HIGHEST RAILWAY IN EUROPE
The Bernina Red Train is one of the world's highest railways, a truly breathtaking sight in the Alps, which is why it has been a UNESCO World Heritage Site since 2008. Finished in 1910, it takes you from Tirano (429 m a.s.l.) across the glaciers of the Bernina Pass (2253 m a.s.l.) to St. Moritz. The 61-km ride faces gradients of 70 percent.
All year long you can experience the thrill and awe of this unique ride both in the winter in the warmth of a panoramic carriage and in the summer in a convertible carriage feeling a cool breeze in your hair. You take a seat, glance at the route on the map, which is on the small table beside you, keep the train schedule handy to arrange the stops you wish, and you enjoy an unforgettable day.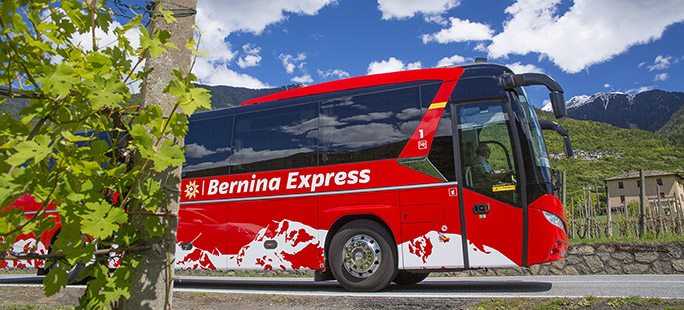 THE THRILL BEGINS IN LIVIGNO
There are three options for doing this tour in the summer. You can use your own means to reach the Poschiavo station, where you take the train to St. Moritz. You can buy your round-trip online or at the station. Another option could be the Graubünden Pass which is valid for 2 days: Departure by regular bus from Livigno to Poschiavo, then a train ride on the Poschiavo-St. Moritz section and return from St. Moritz by regular bus to Livigno.
The third option is to have an exciting full-day outing by purchasing a package for an organized trip with a guide departing directly from your accommodation. In the winter, since the Forcola Pass is closed, the recommended departure station is Tirano, which can be reached by car.
Gallery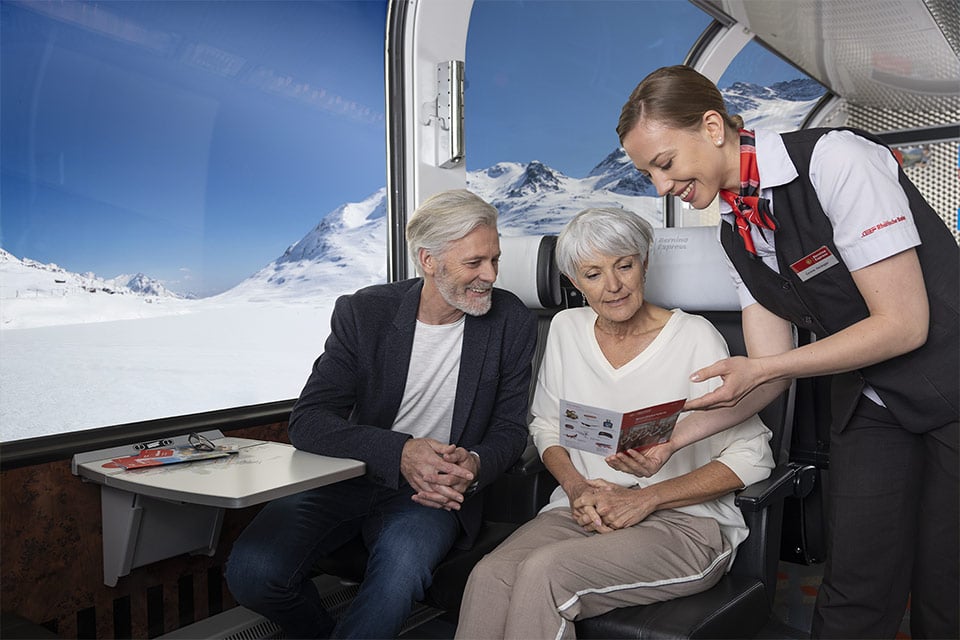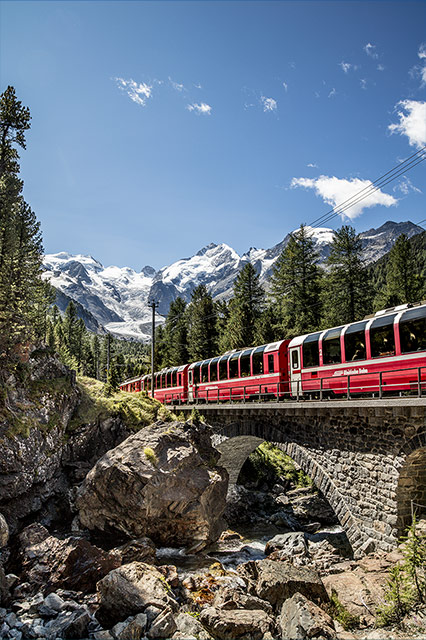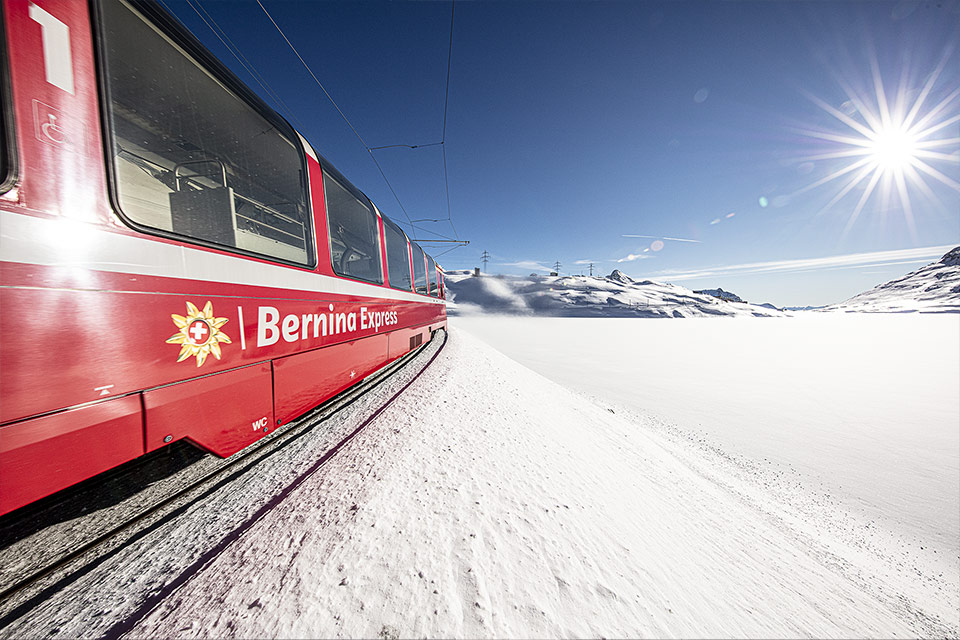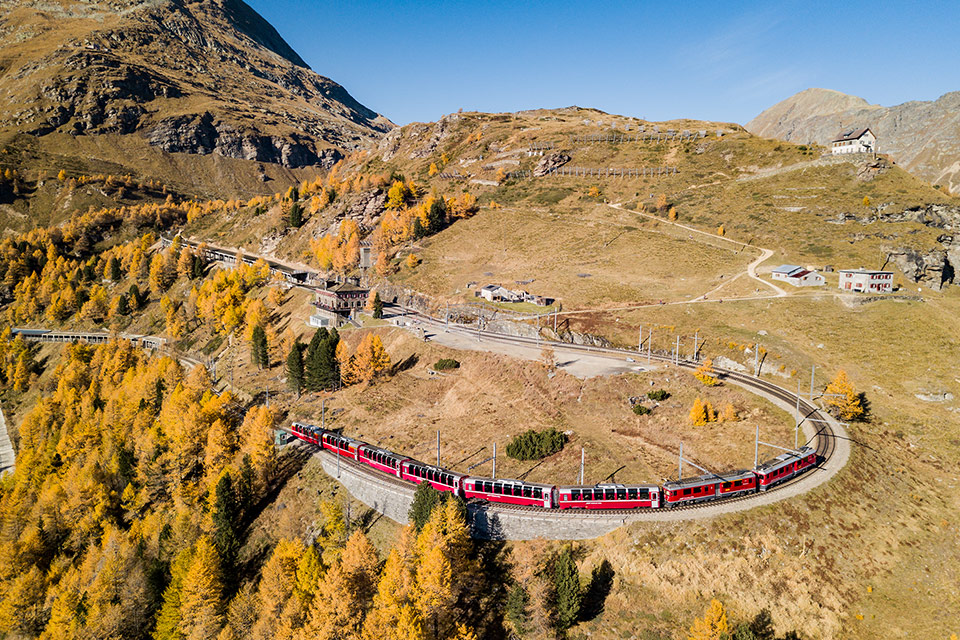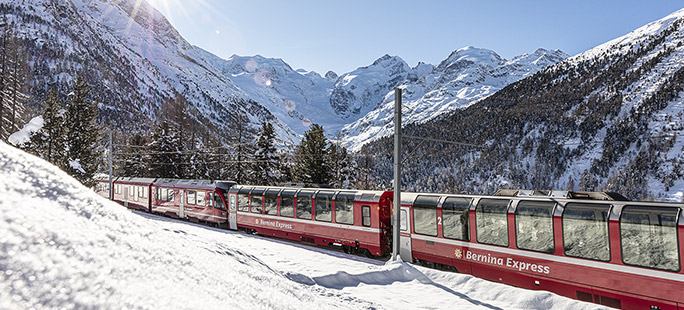 REGIONAL RED TRAIN OR BERNINA EXPRESS?
You can choose between two types of service for your trip. The complete freedom of the Regional Red Train traveling without a reservation, with a ride each hour, getting on and off at any station at your leisure. You can take your bicycle with you on almost every ride, and the windows that can be lowered allow you to take as many photos as you like.
Or you can choose the Bernina Express with panoramic carriages. There are 3 or 4 rides a day and a reservation is required. You can get off only at the stops marked on the schedule and then continue with the regular train. Minibar service is almost always available. Bicycles are not allowed. In only 2 hours and 15 minutes, you will reach St. Moritz.
In July and August, there are open panoramic carriages with wooden benches and adjustable seatbacks depending on the train's direction of travel: seats cannot be reserved, but the experience is unique!
Information and tickets
Timetables
Required documents
A valid travel document, also for children, is required to get into Switzerland.
Traveling with children and young people
Children up to 5 years of age do not pay a ticket if they do not occupy a seat. Youngster up to 15 years of age have a 50% reduced fare.
Traveling with pets
Dogs are welcome on board. Please note that to bring pets into Switzerland rabies vaccination is mandatory and you must have the dog's passport.
If the dog is smaller than 30 cm and it is in a carrier no fare is needed. If it's on a leash it pays half 2nd class fare, whatever the size. In any case, it counts as a group participant: so, 9 humans and 1 dog will get a 20% discount.
Guaranteed accessibility
People with disabilities can enjoy a journey on the Bernina Express or a simple day trip. The Tirano and St. Moritz stations are equipped with wheelchair lifts. Some trains are equipped with "BD"-type carriages with wide side loading doors, wide interior doors, and space suitable for wheelchairs.
STANDARD_PAGE
staying in livigno
Discover our Hotels and Apartments, where you will find everything you need for an unforgettable holiday.