active holiday
ACTIVE: ONE WORD FOR ALL SPORTS IN LIVIGNO.
In Livigno, everything is green... holidays are green, and so are sports. In the valley, you can go horse riding and play golf, and tennis. In the mountains, you can go trekking, hiking, and climbing. At Livigno's Lake, you can use kayaks, stand-up paddles, and pedal boats. You can practice yoga in nature or enjoy the view from a paraglider. And of course, the whole area is a paradise for biking.
TREKKING IN LIVIGNO: ENJOY FREEDOM
If you love trekking and hiking in Livigno, you are free to choose your own itinerary from 3,200 km of GPS-tracked trails, with elevation gains and difficulty levels you feel like tackling during your jaunt. If you are looking for forest hikes there are many valleys to be discovered: Val Federia, Val delle Mine, Val Alpisella, and Val Nera, with its breathtaking waterfall.

If you rather have an easy walk, there is a 17-kilometer pedestrian and bicycle lane that winds all the way around the village. It's always sunny and equipped with several picnic areas. Guided hikes with skilled mountain guides are organized every week.

DISCOVERING THE PARKS: LIVIGNO ADVENTURE
The Avventurando trail in Val delle Mine is an adrenaline rush right from its name. First overhanging the river, then slinging on rocks, you'll fly over the canyon, tackle a Tibetan bridge, and then breathe in the scent of resin. Also, Larix park is the place to be for adventure lovers. Here you can have fun among centuries-old larch trees climbing up to 18 meters using ropes, pulleys, Nepalese bridges, lianas, and wooden features.
PLOGGING: NATURE-FRIENDLY TREKKING
It comes from Sweden and makes you feel good about yourself and nature by picking up trash and litter while hiking. We provide you with the waste collection kit and take care of the disposal. At the end, we give you a green gift to show our thanks.
BIKING IN LIVIGNO: DISCOVER VALTELLINA BY BIKE.
Livigno is a biking paradise: MTB, enduro, cross-country, all-mountain, downhill, e-bikes, and road biking. For the little ones, the Bike Skill Centere is where they can learn to ride safely. There are many Bike parks also reachable by lifts. Also, bike rental stores and bike shops with the latest bike equipment. Bike Hotels & Apartments with tailor-made services.

With 3,200 km of GPS-tracked trails, you'll feel free to choose the destination and the level of difficulty you wish. Even for e-biking, there is everything you need: public charging points, and dedicated trails. And if you are a first-timer, e-bikes of the best brands can be rented in many stores.
YOGA IN NATURE: NAMASTE' LIVIGNO
Livigno has been called Little Tibet because of its unique physical conformation: a narrow plateau, crowned by mountains. And what can one do to best honor this natural harmony? Many people have started practicing yoga combining it with a hike in the mountains or a day of trekking.
You can experience the benefits of Ashtanga yoga surrounded by the incredible beauty of the valley. Or, if you're an early bird, you can greet the new day up in the mountains thanks to the Yoga Experience at Carosello 3000, which offers a yoga class at 3,000 meters followed by a healthy, natural breakfast in Livigno's first sunshine.
WATER SPORTS IN LIVIGNO: EVEN THE LAKE IS ACTIVE
Livigno Lake - bordered by the arched Punt dal Gall dam that expanded the pre-existing natural lake - is a beautiful reservoir where you can practice water sports. Here you can rent kayaks with 1 or 2 seats, paddleboats with up to 5 seats perfect for a family outing, as well as classic rowboats or, for the more adventurous, stand-up paddles.
Once you have made your choice you can indulge in a leisurely cruise on the crystal-clear waters and reach the Floating Island in the heart of the lake. That's a small wooden island where you can dock to sunbathe in total relaxation on deck chairs and benches. You can also take a 360-degree panoramic shot that will remind you that in Livigno, the holiday feeling is everywhere
AQUAGRANDA: BOTH ACTIVE AND RELAXING
Aquagranda is top-notch in many ways. It is one of the highest centers in Europe, which is why it is a site for altitude training. It is an integrated facility for sport, relaxation, and self-care. It hosts athletes who bring Italy's sporting prestige around the world.

A quiet spot if you want to treat yourself to some relaxation after a busy day, but also the ideal place if you want to work out in a modern, professional gym or swim in the Olympic-sized pool. It offers you the chance to spend some pleasant time having fun with water slides with your children or practising outdoor sports such as tennis, and beach tennis, and you'll also find beach volleyball courts and a brand-new athletic track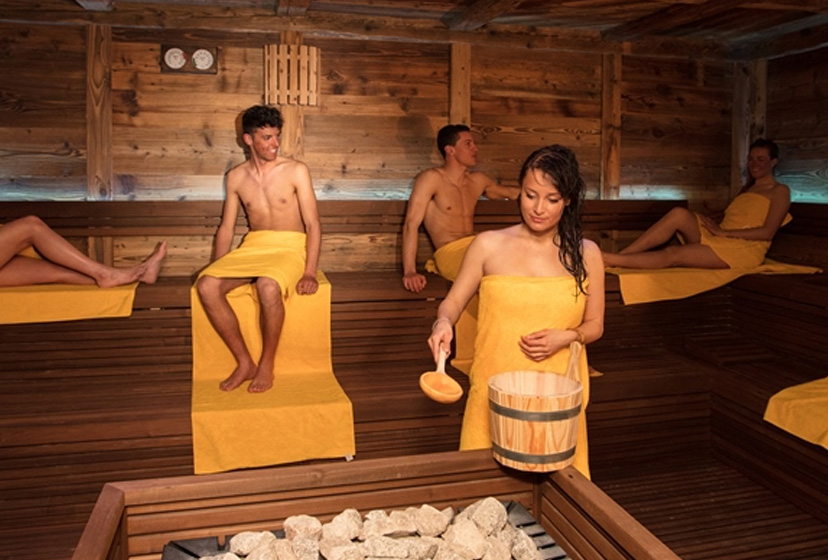 ACTIVE HOTEL & APARTMENT IN LIVIGNO: LOADS OF ADVANTAGES!
If you come to Livigno for a vacation all about sports and nature, our Active facilities welcome you with lots of advantages and tips. At the info-corner, you will find free maps with all the summer itineraries and the facility manager will be glad to give you some tips. If you want to practice Plogging, you can ask for a backpack and trekking poles in use.
Here are some services available at the Active Hotels: indoor fitness gym, energy bars for breakfast, full board and/or half board service (directly inside the facility or in agreement with a nearby facility), and packet lunch service.
TANTE ANCORA LE AGEVOLAZIONI PER CHI SOGGIORNA IN UNA STRUTTURA ACTIVE:
Attività di kayak con accompagnatore gratuito
Attività Avventurando in Val delle Mine gratuito
Sconto per l'accesso alla struttura Aquagranda
Sconto del 20% su massaggi e trattamenti presso Aquagranda
Sconto per ingresso sulla pista di atletica e campo da tennis
STAYING IN LIVIGNO
Discover our Hotels and Apartments, where you will find everything you need for an unforgettable holiday.