Bike Holiday
Livigno: mountain & bike
High above the sky, the bike below you, and all-around trails await you. Your biking holiday in Livigno starts like this every morning: feel free to decide the destination you want and the level of difficulty that suits you best. Check the MyLivigno App and pick a route among the 3,200 km of GPS-tracked trails.
BIKING IN LIVIGNO: TWO WHEELS AND LOTS OF SERVICES
In Livigno, there are many ways to experience the bike world: MTB, enduro, cross-country, all-mountain, downhill, e-bikes, and road biking. For the little ones, the Bike Skill Centre is the place to be where they can ride safely. There are many Bike parks also reachable by lifts and Bike Hotels & Apartments with tailor-made services. Also, bike rental stores and bike shops with the latest bike equipment.

Download the free MyLivigno App to find out activities, routes, GPS tracks, mountain shelters, restaurants, and schedules. Plan your day and take stock at any time.
Check out the map and plan your holiday. Here you find all the routes: from the easiest one along the valley to the high-altitude bike trails.

LIVIGNO BY MOUNTAIN BIKE: MORE THAN A HOLIDAY
Those who come to Livigno once to go mountain biking... often come back. There could be several reasons: maybe the 3,200 km of mapped trails that after a nice ride through the woods lead you to a good pizzoccheri dish. Maybe the rental shops with the best MTBs, or maybe because at the Bike Skill Center you find daily excursions with MTB guides. Or maybe just because there is nothing more beautiful than pedaling through spectacular natural surroundings.
E-BIKING IN LIVIGNO: ELECTRIFYING
In Livigno, the e-bike is at home: just having a look around you can see how many public charging points there are and how widespread specialized assistance is. On the trail map, you can choose e-bike routes, and in many shops, you can rent e-bikes of the best brands. How electrifying!
CYCLING IN LIVIGNO: ON THE ROAD WITH PROS
In addition to mountain biking, Livigno is also an ideal location for road cycling. Thus, if you are pushing on the pedals and a professional team is whizzing past you, don't be surprised: they are here for summer training. So, relax, and enjoy the scenery around you.

Livigno is the ideal start/finish point for unforgettable tours that touch on some of the most famous and legendary Alpine passes of the Giro d'Italia: Stelvio, Bernina, Gavia, Mortirolo, Foscagno, Maloja. You'll be able to tackle them with our help, because Livigno, in collaboration with Pinarello, provides a shuttle for technical and logistical assistance during the ride.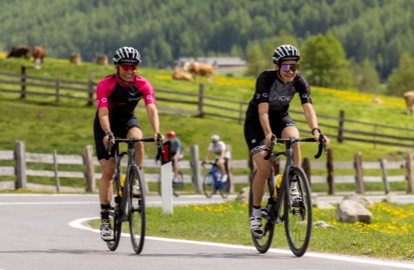 MTB BIKERs FEEL AT HOME IN LIVIGNO
Mountain bikers have been at home in Livigno for a long time: that's why we have designed a special welcome. You can choose between the comfort of our Bike Hotels or the freedom of the Bike Apartments. Both facilities offer specific services: a secure storage area with tools and materials for small repairs and maintenance, an equipped area for washing bikes, with cleaning items and products, laundry service, and other services designed to make your holiday perfect.

By staying in a bike facility, you are also entitled to discounts and offers:
Discount on the BikePass Livign
Participation in organized trips at a reduced price
Discount on shuttle transfers with the bike in town
Discount on massages and treatments at Aquagranda
Discounts on the tickets for the Wellness&Relax / Slide&Fun / Fitness&Pool area at Aquagranda
Access to the Bike Skill Center at favorable conditions
STANDARD_PAGE
STAYING IN LIVIGNO
Discover our Hotels and Apartments, where you will find everything you need for an unforgettable holiday.