LIVIGNO IN FAMILY
SUMMER HOLIDAY WITH CHILDREN IN LIVIGNO? A NATURAL CHOICE
You only have to take a look around to get why Livigno is the ideal place for spending your summer holiday in the mountains with your kids. A plateau at 1,816 metres deep in nature and kissed by the sun, which is the very reason why it is our logo. Here you can take easy walks, breathe pure air, and experience genuine traditions. it's natural that Livigno is chosen by so many families.
STROLLING WITH CHILDREN IN THE SUMMER? IN LIVIGNO IT'S FUN
From the 1,816 metres of the valley to the 3,000 metres of Carosello, you'll find plenty of itineraries for your family. A 17-km-long cycle and pedestrian path winds along the valley and it's equipped with many picnic areas and playgrounds to keep your children happy. A network of gondolas reaches the mountains, mountain pastures and cabins. Furthermore, there are several itineraries to be followed in the surrounding valleys for a hike with your family or, if you wish, with our mountain guides.
Check out the map and plan your summer family holiday: there you will find all the paths suitable for the whole family. If you want to plan your day and take stock at any time, download the free My Livigno App to find out activities, itineraries, GPS tracks, mountain cabins, restaurants, and schedules.
IN TOUCH WITH NATURE BOTTLE-FEEDING A BABY CALF
Nature has written Livigno's history, which is why we preserve it with care and attention. Discovering it together with your family will be a great way to have a truly green holiday, where people and nature see themselves as part of one world. Children can explore the world of animals: milking on the mountain pasture or visiting the calf barn. And if you want to experience life on the alpine pasture, you can spend two days with the farmers and take part in the cattle care and milk processing activities.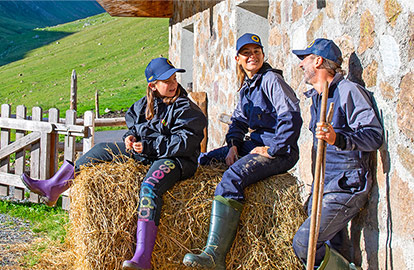 LITTLE MOUNTAIN BIKERS GROW UP… IN THE NATURE OF LIVIGNO
Biking in Livigno is possible for all ages, starting from a young age. At the Bike Skill Center, children can learn to ride without training wheels inside a dedicated track or cheer on their progress with mum and dad. Here they can ride their first MTB and tackle their first obstacles on two wheels. If you wish, you can also enrol your children in weekly bike programmes in which they will combine riding and playing. If you fancy a family E-bike tour discovering our wide and well-marked trails, you can get a bike trailer for your kids. So, let's all get in the saddle: there's a world to explore!

AQUAGRANDA: CHILDREN PLAY AND PARENTS RELAX
After a hike in the mountains, or on a slightly grey day, what you need is a regenerating dip. Aquagranda in Livigno is a modern aquatic wellness and fun centre for the whole family. It could also happen that you bump into professional athletes, who come here for altitude training.

Little ones can play safely with qualified entertainers with water castles, maxi slides, and baby pools in the Slide&Fun area, while adults take a moment to relax and can finally bask in the wellness area between whirlpools and saunas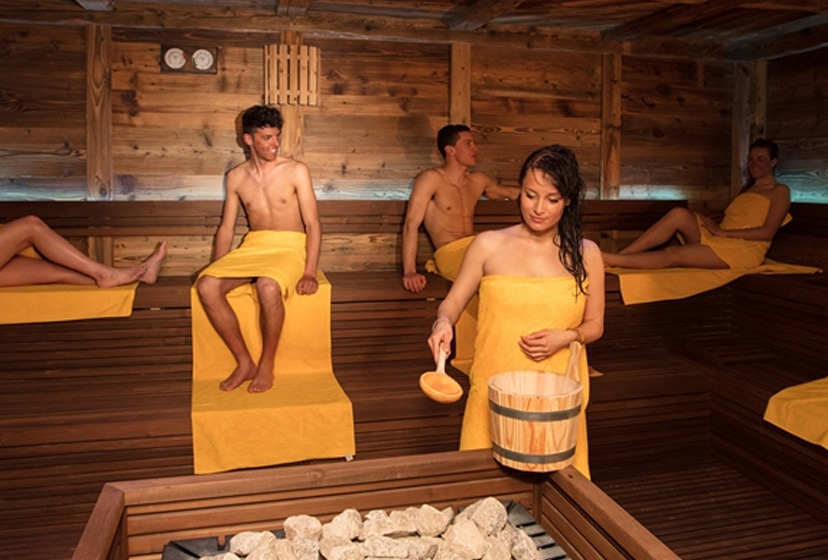 MUS: THE ANSWER TO CHILDREN'S QUESTIONS
After a few outings to mountain cabins and Alpine pastures, children ask questions to find out what life was like in Livigno. And the right answer is there: MUS! Museum of Livigno and Trepalle. You get into an old house full of local traditions where you can experience life in the past and gain a better understanding of the present-day Livigno
SLEEP, STAY, EAT: IN LIVIGNO, YOU'LL FEEL AT HOME
In Livigno, you'll find international hospitality with an extra homey touch thanks to the family management. You get it as soon as you arrive, and you immediately feel at home. You find it out every day when you taste the local dishes, prepared with love for the natural ingredients. And if you and your children have special dietary needs, you will find restaurants with culinary proposals for coeliacs, vegetarians, and vegans

The Family hotels and apartments offer all the comforts for families, services for children, and restaurants with children's menus. What's more:
Play area for the little ones.
Bike rental shops for children
Highchairs, cutlery, baby dishes, and bibs
Beds with rails, cots, bottle warmers, changing tables etc
20% discount on massages and treatments at Aquagranda.
Free access to easy hikes organised with mountain guides
Free access to the Kinder Club during the Family week from July 16 to 22, 2023
Discount on the Aquagranda ticket (Slide&Fun with water slides, Fitness&Pool and Wellness&Relax).
STANDARD_PAGE
STAYING IN LIVIGNO
Discover our Hotels and Apartments, where you will find everything you need for an unforgettable holiday.