BIKE SKILL CENTER
A mountain biking school in Livigno
Have fun… riding an MTB. In the summer, biking is the outdoor sport par excellence and is winning over young and old alike. The bike center acts as an information and meeting point for all MTBikers in Livigno. Here you can find qualified instructors ready to answer your questions and meet your every need.
The MTB guides will recommend you the right route within their weekly program to live the bike experience you are looking for. They'll be at your beck and call even simply for chatting about the bike world. Don't miss this chance, Livigno's Bike guides will be there for you every day!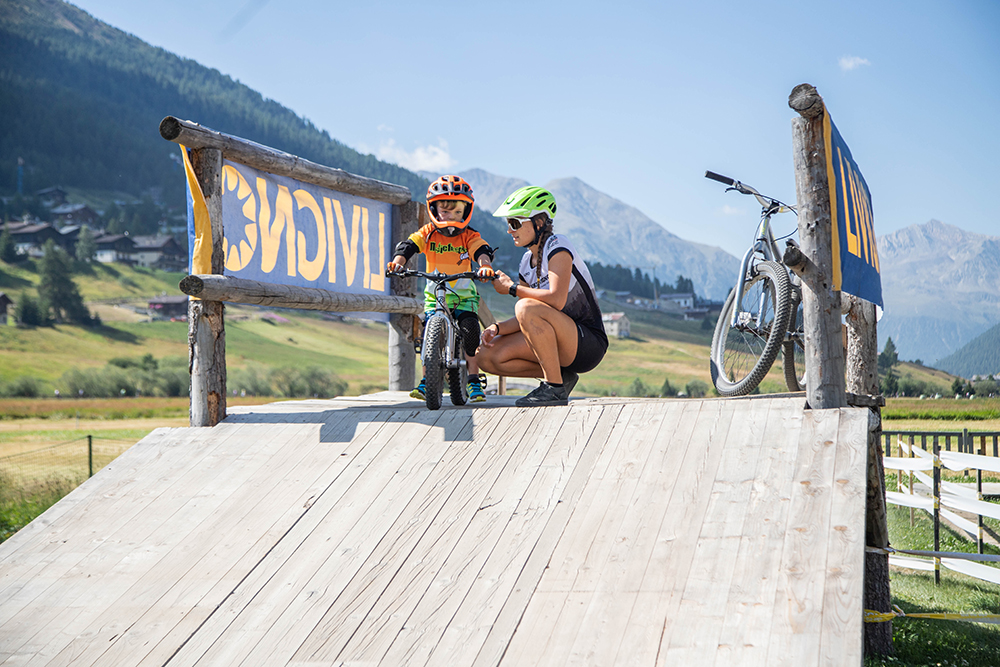 FAMILY BIKE HOLIDAY
If you're on a bike holiday with your family, Livigno's Bike Skill Center is open every day for your kids. Here they can get familiar with MTBs and improve their riding skills in total safety under the expert guidance of our instructors. The park features a series of pump tracks, and wooden boardwalks suitable for children of different ages and skill levels. Led by an expert guide, children will learn how to control their speed, how to choose the right line to tackle boardwalks and jumps, and how to maintain their balance in difficult situations. Our instructors help children develop their skills and confidence on the bike in a stimulating and fun setting for the whole family! Kids have fun and you can relax.

The bike skill center is open from June 24 to September 10, daily from 9:30 am to 12:30 pm and 2:00 pm to6:00 pm.
The Bike Skill Center is located on Via Isola (near the Cross-country Ski Center). It can also bereached from the pedestrian and bike lane.
Daily admission to the Bike Skill Center is 10.00 €.
The park is open to children ages three and under. Children younger than 6 are required to have a parent orguardian present.
A 10% discount is given to all those who are staying in a bike hotel or apartment.



BIKE ACADEMY: THE LITTLE RIDERS' TRAIL
An amazing bike experience at the Bike Academy of the Sitas Bike Area. It is an MTB trail, starting at thetop of the Vetta chairlift and ending at the Costaccia Cabin, designed for learning mountain biketechniques combining 8 exercise areas: balance, step down, switch back, rock garden, north shore, drop,jump, and skinny. A safe training ground to prepare for any type of mountain trail.