BIKEPARK MOTTOLINO
The best Bikepark in Italy
Mottolino BikePark challenges gravity lovers with its 14 trails. You are spoilt for choice in the park: jump in the Jump area, get immersed in the wood with suspension bridges and wooden walkways in the North Shore area, or experience the thrill of downhill.
Opening: 10 June - 24 September 2023
TRY TO RIDE
Learn to ride the jumps starting with the smaller ones in the jump area and you will enjoy the specific features of each slope even more. In the North Shore area you will find many wooden structures on which you can improve your balance or raise your riding level. At the end of the track there is also a maxi inflatable to test new aerial evolutions.

Afraid you won't be able to? Don't worry! At our Dr Rent rental shop, at the start of the gondola, you can find all the necessary equipment and ask for the help of a guide to learn downhill techniques and secrets.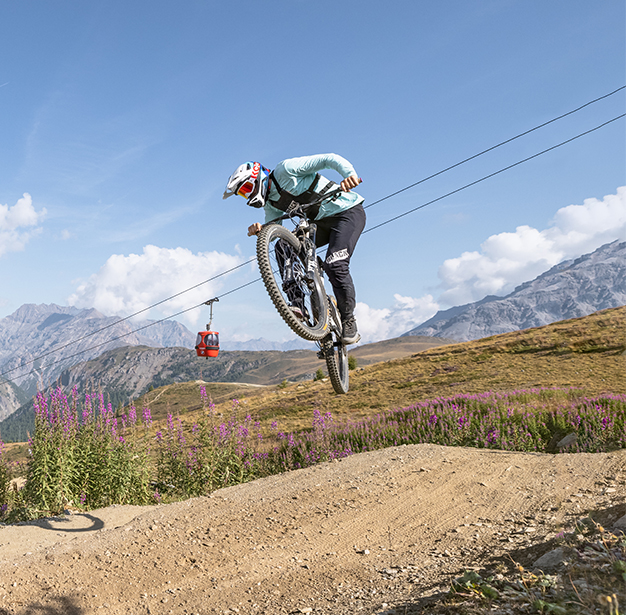 11 • TAKE IT EASY
TRAIL: BLUE – FLOW
Lenght: 4.400 m – Slope: 11,3%
Streamlined in the first part, with some bumps. From the third kilometer the path is restricted and enters the woods. Even more fun due to the presence of a couple of roots. Recommended for the first round of the day and suitable for beginners.

14 • ENDURO NATURAL TRAIL
TRAIL: BLUE/RED – FLOW
Lenght: 5.600 m – Slope: 9,9%
Path suitable for those who want to take the first steps into the downhill and practice with Enduro bikes as well.

1 • FLOW LINE
TRAIL: BLUE/RED – FLOW
Lenght: 2.500 m – Slope: 11,4%
Fast and streamlined track with tall parabolic, jumps of different measures.

12 • EAS23
TRAIL: BLUE/RED – FLOW
Lenght: 4.200 m – Slope: 9,4%
Built in 2014, it is a very streamlined path, fast for the more expert and secure for the beginners thanks to the average slope of 6%. The track is currently as long as 4.300 meters and starting from the Mottolino gondola. The track is currently about 4,300 meters long and, starting from the arrival of the Mottolino gondola, it winds under the same system reaching the flyover of the central runway of Mottolino, from that point, through a connection you can continue until you reach the north shore area in the final part of the bike park.

2 • FIRST EVER
TRAIL: RED – FLOW
Lenght: 1.700 m – Slope: 14,6%
Single fast trail, but not too technical, despite some root and some steeper transitions.

9 • STONER
TRAIL: RED – FLOW
Lenght: 2.000 m – Slope: 13,4%
Faster path in the middle of the woods with various ups and downs, ideal to gain confidence with speed.

6 • CHEMICAL WATER
TRAIL: BLUE/RED – TECH
Lenght: 450 m – Slope: 21,6%
Path rather flat, but made fun by the presence of roots and many curves. In the final part it connects with the First Ever.

8 • 23
TRAIL: RED – TECH
Lenght: 284 m – Slope: 22%
The creators of the more technical « Panet » propose a more simple path but with some narrow transitions.

10 • PANET
TRAIL: RED/BLACK – FLOW
Lenght: 586 m – Slope: 21%
A surprising red/black path in the woods, bushes, medium difficult transitions and challenging inclinations. From downhill lovers for downhill lovers.

13 • SIC58
TRAIL: BLACK – FLOW
Lenght: 3.100 m – Slope: 17,5%
A trail rich of obstacles for the extreme bikers: large steps and gaps from 5 to 7 meters alternate with steep and technical sections.

7 • WILD SHEEP
TRAIL: BLACK – TECH
Lenght: 548 m – Slope: 21,3%
Technical trail with narrow transitions in counter-slope.

5 • B.B.
TRAIL: BLACK – TECH
Lenght: 180 m – Slope: 29,9%
Steep and slippery trail, with a challenging transition that connects with the Easy Line.

4 • BLACK EYE
TRAIL: BLACK – TECH
Lenght: 300 m – Slope: 31,9%
Steep and slippery trail with different sections on rocks that connects with the Easy Line. Very technical and challenging.

3 • D.H. 2005
TRAIL: BLACK – TECH
Lenght: 2.200 m – Slope: 15,4%

Technical and fast path. It is the vertiginous race course of the MTB World Championships and is reserved for the most experienced and prepared bikers.
SLOPESTYLE LINE
The Slopestyle line, entirely dedicated to the pro rider, is a line of structures of earth and wood, among which you can find
a couple of ramps of the Nine Knights' castle, useful for perfectioning you riding level. Drop, wave, hip and dirt jump are the first prime features in this area of the Livigno bike park. Careful! The riding level required to face go through these structures,
is very high: as well as being an expert biker, you need to be capable of understanding if the weather conditions, especially the wind, permit you to face these structures. If you are an advanced rider and you want to try these jumps, entrust the community of the Mottolino Bike Park and let the more expert guys guide you.
DROP AREA
The drop area of the Mottolino bike park is the first area of the slopestyle line, composed by jumps of medium-high level,
to face with knowledge of your own abilities and weather conditions.
JUMP AREA
The Mottolino bike park's Jump area is composed of jumps in sequence, constructed of beaten earth, it is situated in the Passo d'Eira zone and you can reach it through the Take It Easy or the Flow Line paths.
The jumps are divided in 3 different lines which correspond to 3 different difficulties.
The easier line of jumps is also used by the instructors to teach the beginners simple techniques which can be used to face the natural conformity of the ground in all the paths with more confidence. Once understood, these abilities will allow your riding experience to be more fluid and fun. In the other lines, instead, the riders leave tricks and jumps that can be done in the more difficult and challenging routes, also in this area is recommended to learn how to understand the weather conditions, wind in particular, which will allow you to approach the jumps in maximum security.
NORTH SHORE AREA
The north shore area is a zone of the Mottolino bike park made inside the woods.
It's composed by wooden footbridges of various kinds: step up, step down, snails, parabolic and much more. Some are off limit for the beginners, others are rather simple and they complete you riding experience. All the routes bring you to this area, which is found in the woods under the gondola. Once you're there, you will be able to choose whether you want to try some obstacles or if you prefer to continue along the path which will conduct you to the end of the bike park.
INFLATABLE
The Mottolino bike park's inflatable is the perfect structure to learn new jumps with the bike or to improve your technique! Is is situated at the starting point of the Mottolino gondola and it is accessible to anyone who owns the bikepass. Your path towards the bigger jumps in the bike park begins here
Rates of the Mottolino Bikepark Summer 2023
Bikepass valid exclusively for the Mottolino Bikepark includes entry to the Bikepark and unlimited use of the Gondola.
RATES
STANDARD
MOTTOLINO APP / ONLINE
FULL
REDUCED
FULL
REDUCED
AM PASS
(9:00-13:00)
€ 29,50
€ 25,00
€ 28,00
€ 24,00
PM PASS
(12:30-17:00)
€ 34,00
€ 26,00
€ 33,00
€ 25,00
1 Day
€ 40,00
€ 33,00
€ 39,00
€ 32,00
2 Days
€ 63,00
€ 50,50
€ 60,00
€ 48,00
3 Days
€ 83,00
€ 66,50
€ 79,00
€ 63,00
3/7 Days
€ 105,00
€ 84,00
€ 100,00
€ 80,00
4 Days
€ 100,00
€ 80,00
€ 95,00
€ 80,00
4/7 Days
€ 120,00
€ 96,00
€ 114,00
€ 90,00
5 Days
€ 112,00
€ 89,50
€ 106,50
€ 85,00
6 Days
€ 124,00
€ 99,00
€ 118,00
€ 94,00
7 Days
€ 136,00
€ 109,00
€ 129,00
€ 103,50
8 Days
€ 143,50
€ 115,50
€ 137,50
€ 109,50
9 Days
€ 157,50
€ 126,00
€ 149,50
€ 120,00
10 Days
€ 170,50
€ 136,50
€ 163,50
€ 129,50
10 Days in Season
€ 275,00
€ 220,00
€ 261,50
€ 209,00
11 Days
€ 183,50
€ 147,50
€ 175,00
€ 141,50
12 Days
€ 197,00
€ 158,00
€ 188,50
€ 150,50
Seasonal
€ 339,00
€ 271,00
€ 322,00
€ 244,00
NOTE:
Special offers for groups starting from 20 members. For info you can contact us at gruppi@mottolino.it
Multi-day passes are to be used on consecutive days except for 3 days out of 7.
Reduced: Born in 2009 until 2017 (from 1.1.2009 to 31.12.2017) from 6 to 14 years upon the proof of a document and born in 1958 to previous years (from 31.12.1958 and earlier) over 65 on proof of a document.
Baby Free: Born in 2018 onwards (from 1.1.2018 onwards) from 0 to 5 years upon the proof of a document.