LIFTS&SHUTTLE
In Livigno, the lifts are also active during the summer season for reaching the altitude with your bicycle, but also for those who want to go up to the altitude and have lunch in a mountain hut, enjoy the view, or to access the various trekking routes with departure points at altitude that make trekking accessible and suitable for everyone.
MOTTOLINO GONDOLA LIFT

Open from 10 June to 24 September 2023

SITAS GONDOLA LIFT

Open from 24 June to 17 September 2023

CAROSELLO GONDOLA LIFT

Open from 24 June to 17 September 2023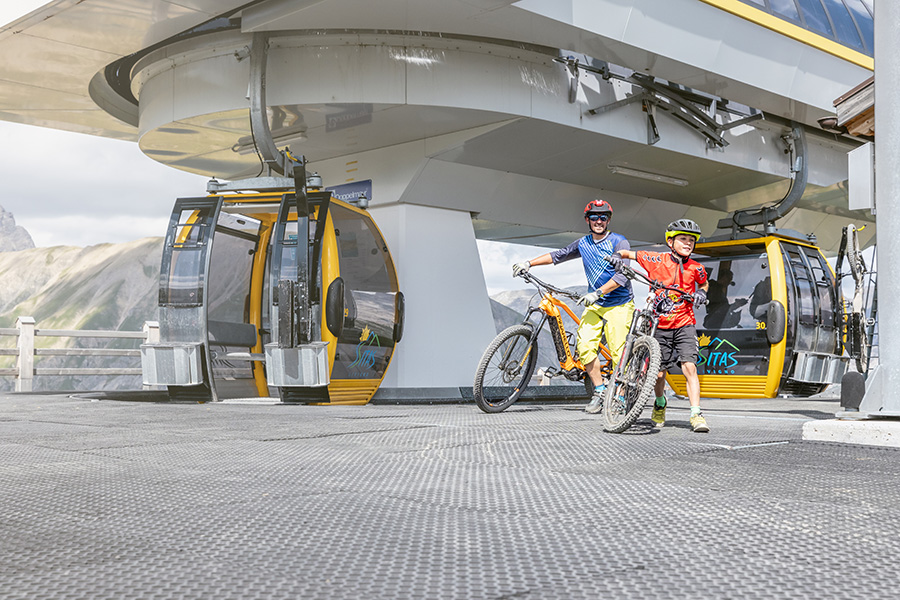 BIKE LIFTS
Take your bike with you at all times! All summer lifts are equipped to transport your bike to the peaks.

To use the lifts you need to buy a bike pass: the Bikepass Livigno allows you to use all the lifts in the Livigno Bike Area, alternatively you can buy a bike pass valid only for the Mottolino lift or a bike pass for Carosello 3000 and Sitas Bike Area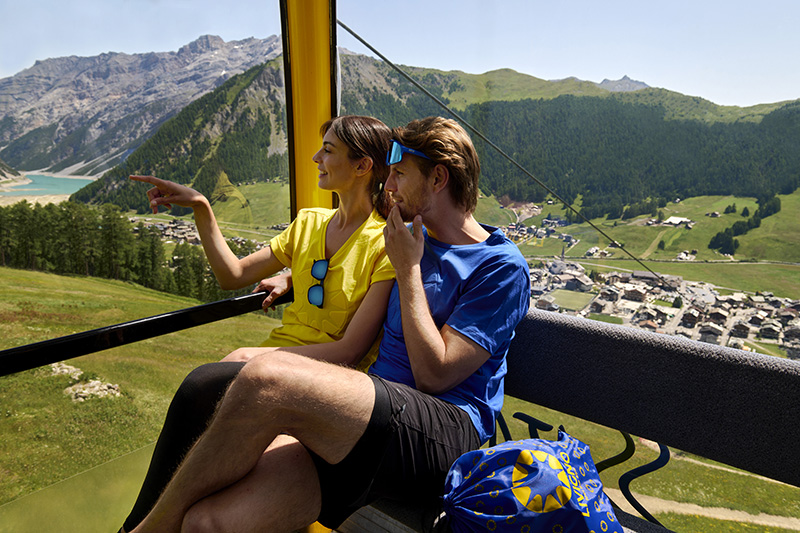 ENJOY THE VIEW
The bike lifts are also a great solution for those who want to go up to altitude and enjoy the view. The cable car ascent will let you discover a completely different scenery from the one you experience in the valley: new views and new activities to discover. At the arrival of the lifts, several playgrounds await you for the enjoyment of all children, restaurants and refuges, and new trekking routes. For the safety of our trekkers and bikers, the paths have been divided with special signposts. Take the cable car, reach the top and discover a new landscape.
| | | | |
| --- | --- | --- | --- |
| | Normal | Junior | Senior |
| Daily LIVIGNO | 47,00 € | 34,00 € | 43,00 € |
| 2 Days Livigno | 78,50 € | 55,00 € | 70,50 € |
| 3 Days Livigno | 105,50 € | 74,00 € | 94,50 € |
| 4 Days Livigno | 131,00 € | 90,50 € | 119,00 € |
| 5 Days Livigno | 156,50 € | 107,50 € | 141,50 € |
| 6 Days Livigno | 183,00 € | 124,50 € | 165,00 € |
| 7 Days Livigno | 209,50 € | 142,00 € | 188,00 € |
| 8 Days Livigno | 235,00 € | 158,00 € | 211,50 € |
| 9 Days Livigno | 261,00 € | 175,00 € | 234,50 € |
| 10 Days Livigno | 287,50 € | 192,00 € | 258,50 € |
| 11 Days Livigno | 312,50 € | 209,50€ | 281,00€ |
| 12 Days Livigno | 339,00 € | 226,50 € | 305,50 € |
| Seasonal Livigno | 455,00 € | 318,50€ | 408,00€ |
| 3 days Season Livigno | 135,00 € | 97,00 € | 122,50 € |
| 5 days Season Livigno | 197,50 € | 137,50 € | 179,50 € |
| 7 days Season Livigno | 259,50 € | 177,50 € | 234,50 € |
SENIOR: Born in 1958 and earlier (from 31.12.1958 and earlier) (Over 65 on presentation of ID Card)
JUNIOR: Born in 2009 up to 2017 (01.01.2009 up to 31.12.2017) (From 6 to 14 years on presentation of ID Card)
BABY FREE: Born in 2018 onwards (from 01.01.2018 onwards) (From 0 to 5 years on presentation of proof of ID Card)