LARIX PARK LIVIGNO
Your adventure park at 1816 meters altitude
Livigno's Larix Park is a must-do experience for everyone who loves nature and adventure. Nine long courses suspended in the trees, suitable for everyone to explore, have fun and learn in a centuries-old larch forest walking on trunks, Nepalese bridges, and wooden features also using lianas. You can have fun and get up to 17 meters high in complete safety suspended in the air.

Fun is guaranteed for everyone, from the zip line, suitable for children from 3 years old, to the liana jump along the BLACK course for the more daring. The park is suitable for adults, teens, and children who will have the chance to play and climb trees in complete safety. The qualified staff will help you overcome your fears and immerse yourself in a completely new and exciting environment.
Summer opening from June 10, 2023.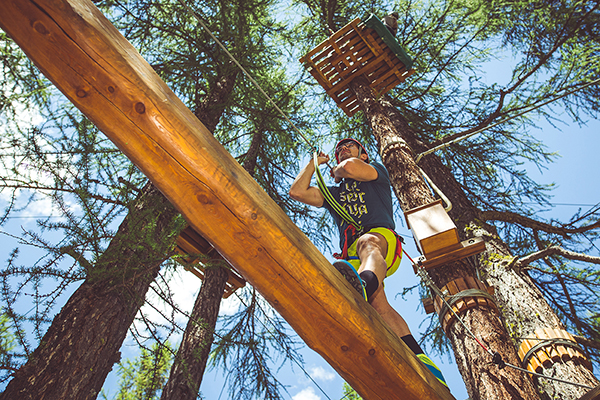 LARIX PARK IS FOR ALL!
Thanks to the many courses, Larix park is suitable for everyone, young and adults from the age of three. There are 9 courses, the Yepi playground areas, and the fuchsia pulley suitable for toddlers. The park is equipped with state-of-the-art safety equipment, which ensures a fun but still safe experience. The staff is always helpful and meets the needs of the guests. Larix Park is the ideal place to spend a day outdoors amid adventure and nature, in a breathtaking setting.
Open daily from 9:00 a.m. to 6:00 p.m.
| | ADULTS AND TEENS | KIDS UNDER THE AGE OF 8 |
| --- | --- | --- |
| 1 Route | € 23,00 | € 19,00 |
| Unlimited routes | € 35,00 | € 30,00 |
| Baby/Fucsia Routes | - | € 13,00 |
| | ADULTS AND TEENS | KIDS UNDER THE AGE OF 8 |
| --- | --- | --- |
| 1 Route | € 19,00 | € 16,00 |
| Unlimited routes | € 30,00 | € 24,00 |
| Baby/Fucsia Routes | - | € 12,00 |