TAST
Native Food. Original food, simple food, symbolic foods that have a meaning and a taste for everyone: the one that blends with the memory and the search for authenticity. Every morning,  during the breakfast you'll have the possibilty to try this thypical producuts, 100% made in Livigno.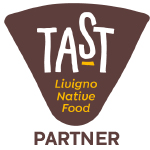 via Plàn, 114 - Contrada Centro - Livigno
Visit the website (external link)
Non-binding request
Call us DISCOVER THE NUMBER +39 0342 990100
Call
Hotel Concordia is situated right in the middle of this dream landscape and it will be the place where you'll find daily relaxation after an exciting day in the snow.
Our rooms are spacious and furnished with style. We are especially proud of the magnificent suites that do justice to the famous names they carry: Grace Kelly, Audrey Hepburn and Jackie Kennedy. It is no coincidence that it is the very elegance and finesse of these extraordinary women that stand for our high-class suites. You'll simply adore their comfort and beauty!
HOTEL SERVICES
Service available
Service available only in some rooms
Paid service
Paid service only in some rooms
Amenities
Heated ski storage
Jacuzzi
Swimming pool
Smoking lounge
Sauna
Boot warmers
Solarium
TV SAT
Spas
WiFi
Catering services
Bar
Breakfast buffet
Italian Breakfast
Gluten-free menu
Vegetarian menu
Restaurant open to the public
Room facilities
Hairdryer
Balcony
In-room safe
Sofa bed
Shower
Mini-bar
Laundry with ironing facilities
Bathtub
WC
WC + Shower
WiFi
Parking
Car park
Parking for coaches
Spoken languages
French
English
Russian
German
Sundry services
Disabled friendly (access)
Small pets allowed
Lift
Babysitter
Mountain bikes for rental
Conference room
Shuttle service
NON-BINDING REQUEST
Fields marked with (*) are required.
Just a moment please!
We're looking the Facilities for you…
booking by Easisoft.