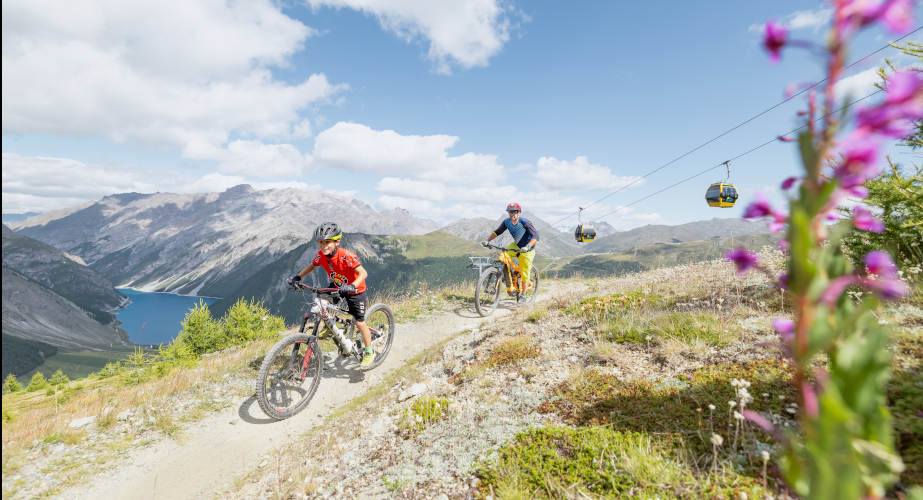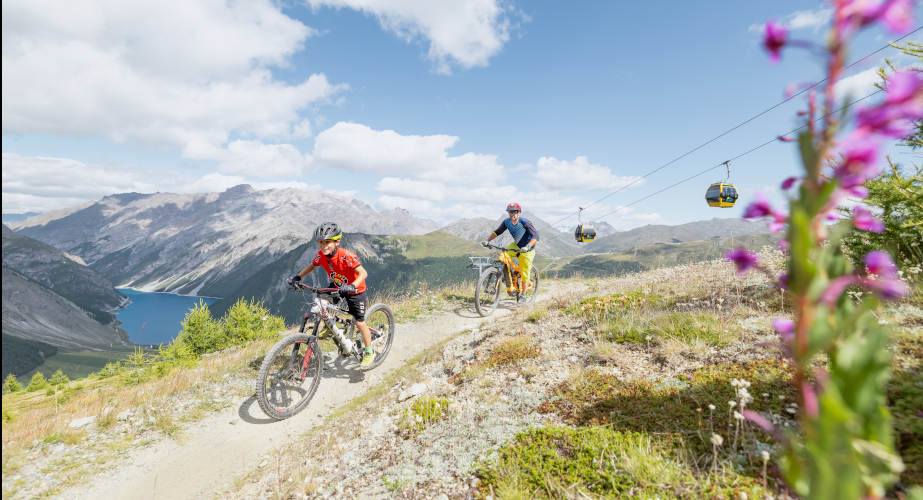 Whether you love Enduro, All Mountain or Cross-Country...fun is guaranteed! Don't miss the opportunity to participate in the tours organised by BikeLivigno: the MTB Guides, with their professionalism and experience, will accompany you on the best single trails in Livigno, Engadine and Alta Rezia. Have a look at the rich weekly programme or go in person to meet the Guides at the Bike Skill Center: it will be an opportunity to talk about MTB and plan your trips!
All tours can be covered with normal MTBs or with E-MTBs.
Depending on the tour.
Price for CP Bike guests: 10% discount.
Please refer to the MTB Guides for tour details. Each tour requires a minimum of 5 participants. Other 'classic' or 'special' tours (suitable for experienced bikers) can be organised on request. Throughout the summer, 3 fixed tours will be offered in the weekly calendar.

FIXED WEEKLY PROGRAMME:
550m+ 550m
Level : easy
MTB or EMTB
min 2 pax
For who: Easy level tour in the valley of Livigno (e.g. Giro del tee, Val Federia,Valle delle mine) suitable for everyone, even without Ebike training.
Cost: 45,00 Euro.
LAGHI DI CANCANO:
36 km 960m+ 960m
Level : medium
MTB or EMTB
min 2 pax
For who: Tour of medium level suitable for those with a little experience on trails and some Ebike training.
Cost: 50,00 Euro.
VAL VIOLA:
46 km 1400m+ 1940m-
Level: medium-high
MTB or EMTB
min 5 pax
1x Shuttle included
Possibility to reduce altitude difference with second Shuttle 36km 800m+ 1940m-
For who: this tour is designed for Ebike starting in Livigno via Val Viola and ending in Poschiavo, return is by Shuttle. Medium-high level for experienced bikers and good Ebike training is necessary.
There is also the possibility for those with a normal bike to reduce the height difference on the ascent by using the second shuttle and starting from Passo Foscagno.
Cost: 85.00 Euro.
All other tours will be organised and run according to customer request.
Where
Bike Skill Center - Via Isola (Cross-country Ski Centre area - also accessible from the cycle track).
When
From 10 June to 10 September, daily on request.
Reservation
Mandatory by 19.00 hours on the previous day